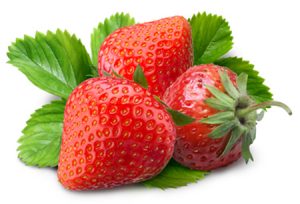 Locally-grown Strawberries are this week's Fresh Pick of the Week from the Certified Farmers' Markets. Peak Strawberry season in California runs from March through August, but because of our wonderful California climate, California-grown Strawberries are generally available year-round. In fact, California-grown Strawberries are so prolific, they account for almost ninety percent of the Strawberries that are sold in the United States.
California Farmers' Markets (and California residents) are lucky to get the very best of the harvest because the California-grown Strawberries are picked fresh and brought to market either the same day, or the day after being picked. This is important because Strawberries taste the best, and are the most nutritious, when they are fresh from the field.
Recent studies have actually shown that Strawberries suffer a major loss of vitamin C and polyphenol antioxidants after only two days of storage. That doesn't mean Strawberries that were picked more than two days ago won't still be good to eat. It just means they won't be nearly as nutritious as the fresh-picked Strawberries you'll find at your local Farmers' Market.
Did You Know: Strawberries, despite being the most popular "berry" fruit in the world, are technically not "berries" – at least not as far as botanists are concerned. Fortunately, most of us don't care so much about technicalities. We simply enjoy the great taste of fresh-picked California-grown Strawberries!
Price: $4 per pack, or $10 for a 3pack