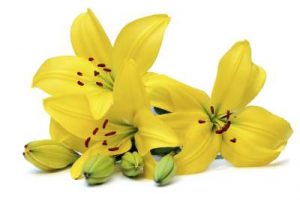 Locally-grown Asiatic and Oriental Lilies are this week's Fresh Pick of the Week from the Certified Farmers' Markets. Just in time for Easter, these long-stemmed lovelies lend an air of grace to any setting, and in the case of Oriental Lilies like Stargazers, lend a heady scent as well. Choose from a variety of large showy blooms in colors ranging from soft pastels to deep yellows, bright pinks, fiery reds, intense oranges and dark maroons.
Local farmer, Juan Arriaga, of Arriaga Farms brings Asiatic and Oriental Lilies as well as a variety of other fresh California-grown cut flowers to the markets every week. California's unique climate means that flower growers like Arriaga Farms can produce some of the finest cut flowers in the world – and they can do it all year long. California-grown cut flower growers use the latest technologies to produce and transport their cut flowers to market in the quickest and most efficient way, ensuring that customers always receive fresh, long-lasting products.
Did You Know: Asiatic and Oriental Lilies are among the easiest lilies to grow, and create a dazzling show of color, in the garden and on the table. They are also "true" lilies. Many other plants (like the Peace Lily, Calla Lily or Canna Lily) have "lily" in their name, but are actually unrelated to true lilies.
Price: $ 6/bunch