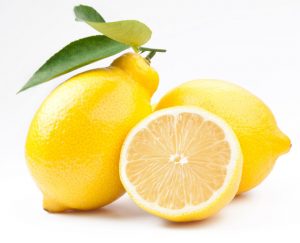 Continuing our Winter celebration of Citrus season here in Southern California, we're featuring Lemons as this week's Fresh Pick of the Week from the valley's three Certified Farmers' Markets. Lemons, like all citrus fruits, are open pollinated, and over the years, that has led to a variety of natural and manmade hybrids. You won't find most of these hybrids at the grocery, but you will find them at the Certified Farmers' Markets.
Choose large, thin-skinned and sweet, Meyer Lemons, when you're looking for a lemon that is sweeter and milder in flavor. Meyer Lemons are less acidic than other lemons but still add a true lemon flavor to pies, puddings, jams and jellies. Choose bold and sassy Eureka Lemons for lemonades, marinades, or recipes requiring lemon zest. Eureka Lemons have a thick rind and a deliciously sour pulp.
Looking for a lemon of a different color? Choose a Variegated Pink Lemon. Although they have the same deliciously sour flavor as other lemons, they have a green and yellow variegated skin, and their pulp runs from pink to pinkish orange.
Did you know: Although they are thought to have originated in either India, Burma and/or China, the real origin of the Lemon is largely a mystery.  What we do know is that they have been cultivated by humans for nearly 4,000 years.
Price: .50 each and up.