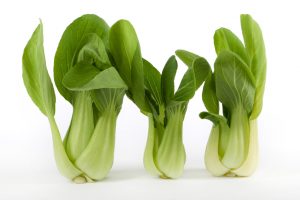 Bok Choy is this week's Fresh Pick of the Week from the Certified Farmers' Market (all locations). Also known as Chinese Cabbage, Bok Choy is a staple in Asian cuisine, serving as a cooked green (steamed or stir-fried), raw green, or preserved as suan cai – Chinese sauer kraut or kimchi in Korean cuisine.
It is interesting to note that Bok Choy, like its cousin, cabbage, is really a type of turnip. But while European farmers were breeding these vegetables for their roots, Asian Farmers were focused on the leaves of the plants. The Bok Choy you'll find at the market is grown organically, and comes in several varieties, including giant green Bok Choy, and occasionally even a purple variant.
Did you know: The turnip family (known scientifically as Brassica rapa) includes quite a variety of subspecies, including Bok Choy, turnips, cabbage, broccoli, cauliflower, and even the rutabaga.
Price: $3 each or 2 for $5.