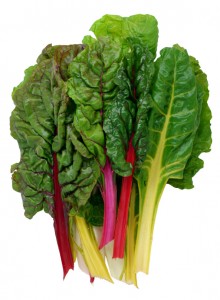 Chard, commonly referred to as Swiss Chard, is this week's Fresh Pick of the Week from the Certified Farmers' Markets. Over the years, Chard has been the subject of many misunderstandings. It is classified (at least in culinary terms) as a type of "green," but Chard is actually a form of beet, albeit one that has been bred for its delicious and highly nutritious leaves (at the expense of its root bulb).  The culinary term "green" itself is also a bit of a misnomer when applied to Chard, because Chard, or at least the stalks and ribs of the plant, comes in a variety of colors – white, red, yellow, pink, ruby – even rainbow, making it a lovely specimen for gardens and flower beds.
Don't choose Chard for its color alone, though. Choose it because it is one of the world's healthiest vegetables! That's right. Chard is chock-full of Vitamins A, C, and K, and contains a variety of polyphenol antioxidants (natural compounds that are well-known for their cancer-fighting properties). Nor are Chard's antioxidants limited to the conventional ones that most plants contain. No! Chard has a record thirteen types of antioxidants, including several that have anti-inflammatory properties, others that can help detoxify the blood, and one superstar antioxidant that has actually been shown to help regulate blood sugar.
Chard is available from several farmers, and can be found at all three of our Certified Farmers' Market locations. All of it is locally-grown, pesticide free, and delicious. Some of it is also organic.
Did You Know: "Swiss" Chard is not native to Switzerland at all. It comes from the Mediterranean. Nineteenth Century seed manufacturers gave Chard the name "Swiss" in order to differentiate it from "French" Spinach!
Price: $3 per bunch