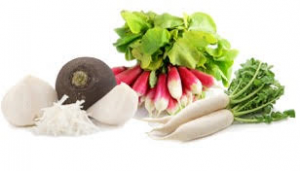 Radishes are this week's Fresh Pick of the Week from the valley's Certified Farmers' Markets. And we're not talking about you average run of the mill salad radishes either (although we do have several wonderful types of those to choose from). Oh, no. We're talking flavorful Black Radishes, spicy Purple and White Japanese Daikon radishes, beautiful (and delicious) watermelon radishes, and more.
Radishes have been a favorite of humans since ancient times because they grow well, even in poor soil, keep well – even through Winter – and germinate quickly. Mostly eaten raw, they can also be cooked or pickled. They have become important parts of many Asian cuisines, but are also popular throughout Europe and the United States. Their distinctive flavors are the result of chemical compounds the plants produce. They are actually members of the Brassicaceae (or  Cruciferae) plant family, which also includes mustards, broccoli, cabbage, cauliflower, kale, and collards.
Did you know: Seven million tons of Radishes are produced yearly throughout the world, representing roughly 2% of global vegetable production.
Price: $ 3 a bunch or 2 bunches for $5.