Fresh Pick of the Week for October 3 – 9, 2015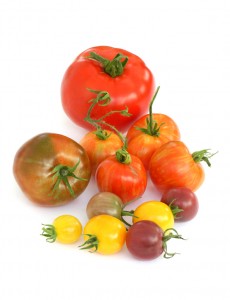 Heirloom Tomatoes are this week's Fresh Pick of the Week from the Summer Certified Farmers' Market. What IS an Heirloom Tomato? Particular definitions vary. In general, though, Heirloom Tomatoes are open pollinated varieties of tomatoes that have been passed down for generations on family farms, or have been in circulation for more than fifty years. And unlike their hybrid cousins, Heirloom Tomatoes come in a variety of shapes, sizes, and colors!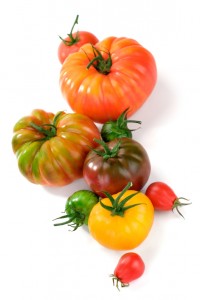 Thanks to the resurgence of dozens of varieties of Heirloom Tomatoes, tomatoes are not just red anymore. They also come in yellow, green, purple, black, orange, and a variety of variegated colors! There are also distinct flavor variations and texture variations. Choose from sweet and juicy, tart and tangy, or dense and meaty. Heirloom Tomatoes have given us a plethora of choices, and a veritable treasure trove of genetic diversity.

DID YOU KNOW:  Hybrid tomatoes have only been around since the 1940s. They are the result of a genetic mutation that gives them their uniform shape,  traditional red color, and a longer shelf life (but sacrifices their sweet taste due to a decreased ability to make sugar). Heirloom Tomatoes lack this particular mutation, which is why they vary in color, shape and taste.
Price: varies by farm
Also in Season, and available now at all locations: Potatoes, Celery, Green Onions, FRESH and DRIED Herbs, Eggs, Dates, Almonds, Oranges, Grapefruit, Chard, Eggplant, Squash, Onions, Garlic, Apples, Shallots, Beets, Green Beans, Carrots, Tomatoes, Green Tomatoes, Peppers, Lettuces, Parsley, Mint, Broccoli, Cabbage, Spinach, Radishes, Leeks,  Brussels Sprouts, Asparagus, Dates . . . . PLUS, incredible artisan breads, fresh meats, cheese, fresh raw honey, California olives/olive oil/vinegars, and a wide variety of fresh flowers.
Contact the Certified Farmers' Market at 760.898.5250, 760-285-2630 (se habla Espanol), or visit us online at www.certifiedfarmersmarket.org.