Certified Farmers Market Fresh Pick of the Week: Dragon Fruit!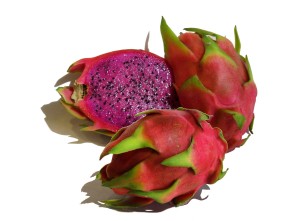 Locally-grown Dragon Fruit (also known as Pitaya) is this week's Fresh Pick of the Week from the Certified Farmers' Markets.* Although native to Mexico, this exotic and brightly colored cactus fruit is now popular throughout Central and South America and throughout most of Southeast Asia as well. It is often harder to find in the United States, so when its short season comes around, it is usually in high demand.
The fruits themselves are quite beautiful – even a bit flamboyant – with a vibrant red-magenta skin that is punctuated by green triangular-shaped scales. Inside, the ones you'll find at our markets are an even more vibrant shade of magenta with tiny black seeds scattered throughout (although some other varieties have white flesh). The taste is mild, and the texture is soft and juicy. Dragon Fruit can be eaten raw, or used to make fruit salads, desserts, juices, wine, tea and sorbets. Both the texture and the flavor of Dragon Fruit are reminiscent of Kiwi Fruit, but with added sweetness and tartness. It's a rarified flavor that's delicious, and well worth trying.
DID YOU KNOW: Dragon Fruit is not only pretty – it's also quite nutritious, and is rich in carbohydrates, protein, calcium, iron and phosphorus. Dragon Fruit also provides large amounts of niacin (vitamin B3) and ascorbic acid (vitamin C). The fruit is rich in fiber, contains significant quantities of phytaolbumin antioxidants (which prevent the formation of cancer-causing free radicals), and has been used to successfully control blood glucose levels.
Price: $ 7.50 per pound
*Palm Springs and La Quinta markets only.
Also in Season: Potatoes, Celery, Green Onions, FRESH and DRIED Herbs, Eggs, Dates, Almonds, Oranges, Grapefruit, Chard, Eggplant, Squash, Onions, Garlic, Apples, Shallots, Beets, Green Beans, Carrots, Tomatoes, Green Tomatoes, Peppers, Lettuces, Parsley, Mint, Broccoli, Cabbage, Spinach, Radishes, Leeks,  Brussels Sprouts, Asparagus, Cherimoyas, Dates . . . . PLUS, incredible artisan breads, fresh meats, cheese, fresh raw honey, California olives/olive oil/vinegars, and a wide variety of exotic Orchids and flowers.
Sidebar/Additional Information:
Palm Desert EVENING Market: NEW HOURS in Palm Desert only (4pm to 8pm). The Market is held each Wednesday at 72-559 Highway 111 (adjacent to the Palm Desert Chamber of Commerce).
Palm Springs Certified Farmers' Market: The Market is held each Saturday morning from 8am to 12:30pm at 2300 Baristo Rd. (adjacent to The Camelot Theatres)
La Quinta Certified Farmers' Market: The Market is held held each Sunday morning from 8am to 12:30pm in Old Town La Quinta at 78100 Main Street (off Calle Tampico).
The Certified Farmers' Markets are the Coachella Valley's only State and County Certified Farmers' Markets. That means all the fruits, vegetables, meats and other products that are on sale at the markets have been grown on California Certified farms. In addition, almost all the farms are located within a 90 mile radius of the markets (thus reducing the carbon footprint), and many of the products sold are "USDA Certified Organic."
All Certified Farmers' Markets accept CalFresh EBT Cards, WIC Farmers' Market Checks, and Senior Farmers' Market Checks. The Markets also offer Market Bucks that can be purchased using charge cards or cash, then used at the market for purchases.
The Certified Farmers Markets are sponsored by the Palm Springs Cultural Center, a 501(c)(3) non-profit organization, which was established to encourage the development of the cultural arts in the Coachella Valley with a specific focus in the areas of film, fine art, live performance, dance, music, and community festivals. The Center is dedicated to advancing education, to nurturing community-wide participation in the cultural arts, and to sponsoring scholarship awards for deserving individuals.